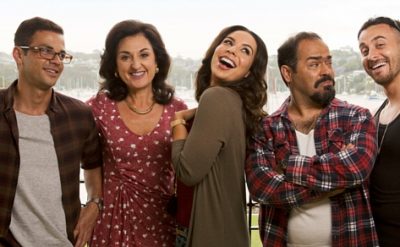 Channel 9 launched into 2016 with this comedy hit! With two seasons under their belt, Australia has definitely enjoyed Here Come The Habibs!
Kat makes an appearance on THE TODAY SHOW and TODAY EXTRA for Here Come the Habibs
Kat plays one of the lead roles, Layla Habib. Launching with over 1.25 million viewers Australia wide on TV, with nearly 3 million with online streaming available, See the link below for all the episodes and extra online content.
https://www.9now.com.au/here-come-the-habibs
In the reviews –
http://www.9jumpin.com.au/show/here-come-the-habibs/season-1/latest/season-1/episode-05/habibs-renewed-for-a-second-season/
The Australian calls it "This is a show with a big heart…laugh-out-loud funny as it takes the mickey, especially out of Western society's fear of Arab immigrant culture."
The Guardian review states that "The family at the heart of the series, whose lottery win catapults them from western Sydney into its east, is warmly drawn, pretty funny – if exaggerated – and written to be the good guys"
Mamamia agrees that "Young ethnic people will be able to watch this and laugh at it, rather than feel defensive and feel like who they are as a person is being challenged."
news.com.au sums up "The show exaggerates Lebanese culture, as it does Australian culture. No one is safe. The daughter Layla Habib (my aunty's name, funnily enough) is a hyped-up version of a lot of Australian-Lebanese girls I know. So too is the snotty, ignorant Australian neighbour with lines such as, "Do you think they will knock it down and build a mosque?"
---